La Ventana is just 40 mins drive South of La Paz. On the coast of another massive sandy bay, originally a fishing village, has transformed slowly over the past 20 years into a kiteboarding/windsurfing paradise for many Canadians & Americans. As the sport of Kiteboarding grows, people from all over the world flock here for the world class wind.
Over the years 'Gringo's have brought up land and built homes, restaurants and cafe's have opened. I'm told the local population is 400, now with the influx of us Northerners the winter population has grown to 5,000, sounds a lot like Whistler!
With the growth good things have happened, no longer is there an unsightly stream of garbage along the road, the town is clean, side walks and street lights. There is recycling and compost, a Saturday market of predominantly gringo artisans selling wares, fresh food and clothing, also amazing coffee & bagels. And of course the typical Mexican blankets, hammocks and pottery.
El Sargento is the next settlement along, not really a town, but is shoulder to shoulder to La Ventana, then the paved road ends and dirt road takes over till you hit the sea.
Actually all the roads are dirt, it's just the main road through town that is paved. There is no postal service here as the streets don't really have names and there are no 'official' addresses. When the wind blows it sure is dusty, but the wind doesn't always blow, so the seasoners have built an impressive and extensive network of mountain bike trails.
This season the winds haven't been as smooth and consistent as normal. The desert is very green, creating humidity which directly effects the thermal winds. It makes for pretty scenery, not great conditions for kiting. We have had a few days out on the water, the wind strong & gusty creating big waves which were fun to play on, surf & jump off.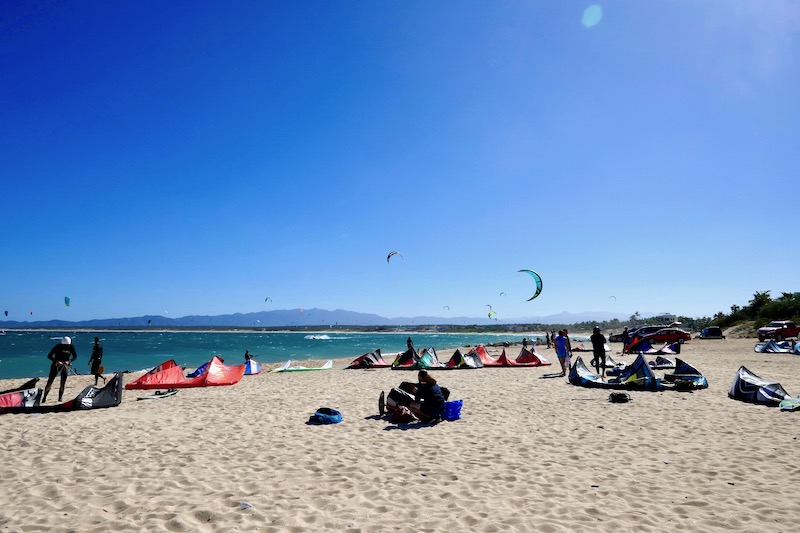 We set up at the main campground. Which is a rather unique setting as it's not really camping, it's more like a pop up retirement village for those who never grown old. The same people have been coming here and occupying the same spots every 6 months for the past 20 years. They are rather teratorial in the way feel like they own the place. They park their massive RV's, set up the oversized awning and then erect a sail shed, aka garage right beside, then they lay out large tarps, set them into the sand and sweep them every day. Some have hot tubs, with fake grass carpet and full size inflatable couches. It's a great deal for waterfront property, as non tax paying half year residents. Am I sounding snarky? 🙂 We could camp elsewhere, which would have been our preference, however our friends are here and it's central for the kids to play with others, easy to kite & paddle from.
Christmas morning the kids awoke full of excitement to see presents wrapped and placed beneath our paper tree. They quickly gathered them up and piled onto our bed for the unwrapping. Their Santa letters asked for all kinds of things that just weren't possible, but they did luck out with some great goodies and are happy with them all.
We did have a few windless days, so we took the paddle boards out and paddled up to El Sargento to where there were other kids for ours to play with. We have 2 inflatable and one fibreglass board. Charley paddles her own and manages very well till she gets tired and ties off on to me for a tow. Jaxon has the balance, but the paddle is a little too long for him right now, doesn't stop him trying though. We paddle, stop and swim, then paddle on.
We also went for a bike ride down to and through the Cactus Forest. A large area full of an incredible variety of cacti. The trail system criss-crosses and goes on forever. People have written signs identifying each variety. It's beautiful, very green with many pretty pink flowers, we've never seen the Baja like this. The kids have fun as the riding is easy and we are out there, exploring for a couple of hours a time.
New Years celebrations were spent with Whistler friends at the Pelican Reef resort, lots of kids running around, cold cervecas and hilarious karaoke rang in the new year, midnight on the Baja is 9pm.
The next morning, January 1, 2020 we pack up and hit the road, we are meeting my Dad in La Paz in his Land Rover and will cross over to the mainland and travel together through Mexico for a while.