The Pan-American Highway 
Stretching from Prudhoe Bay, Alaska to Ushuaia, Argentina, the famed scenic Pan-American highway connects the North, Central and South American continents.   Winding over 30,000 km's, through diverse geography and climates.   From arctic tundra, arid deserts, dense tropical jungles and mountains.
The longest paved road in the world, the Pan-American highway has called many adventure travellers to travel 'over land' from tip to tip since the first reported expedition in 1940's.
I remember my Dad reading and re-reading National Geographic's issues in the 80's covering the Camel Trophy, with amazing photos of a group of Land Rovers navigating their way through seemingly impassable trans amazonian terrain, capturing the imaginations of adventure junkies everywhere, mine included.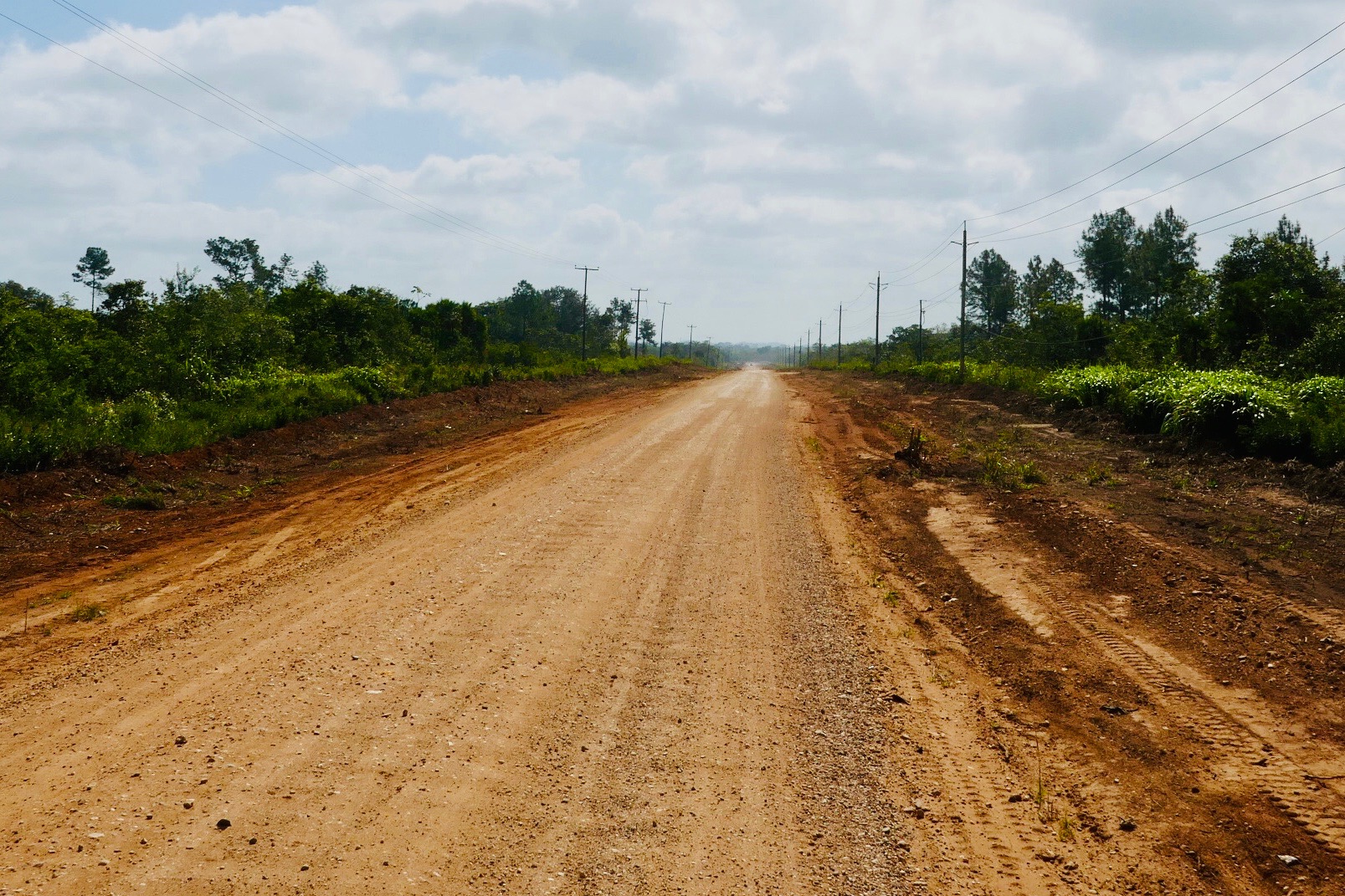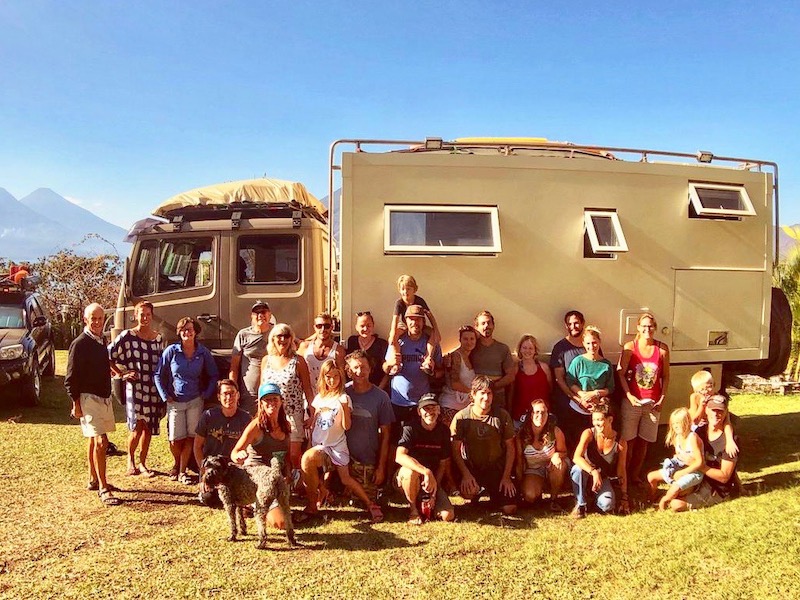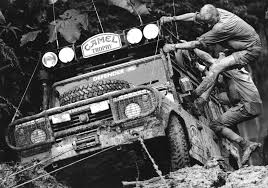 Today the Pan-American Highway is more popular than ever, often the biggest hazard are Topes – speed bumps.   The Overlanding movement is a rapidly growing community of like minded people, of all ages from all over the world, solo's, couples and families alike are leaving their old lives behind in search for something new and adventurous.   Driving a large variety of vehicles customized to individual needs. The best part of travelling is meeting all the amazing people along the way!
How Long Does It Take?
Driving the Pan-American highway can take as long as you want.   We have met people that set out for a 1yr trip and are still on the road 3 years later.  We have a sneaky suspicion it will take us longer than the 15 months we've planned for.    
It's important to move with the seasons, pass through Central America before the rain season starts, and plan on entering Chile & Argentina in the Spring so you're travelling in the Southern spring & summer months.   
If you are short on time, plan out in advance and highlight the 'must see' spots and map your route accordingly.   If your time is unlimited, it's more likely you will venture off the beaten track to discover the lessor known hidden gems.
How Much Does It Cost?
The cost of driving the Pan-American Highway will depend on your budget, health of the vehicle and your personal style of travelling.  We try to strike a balance of careful spending but not scrimping.   We have budgeted a monthly expense of $2,500 CND p/month for a family of 4.  We  typically cook all our meals, except for Mexico's bbq chicken, we free camp when possible.  Campgrounds are usually $10-15 CND per night, which often includes spotty wifi, cold shower and running water to do laundry.   Our biggest expense is diesel and food.   So far we've found plenty of cheap fresh fruit and vegetables across Mexico, Belize and Guatemala.     Entry fees into historical sites or waterfalls, museums and galleries can also add up, but that's the reason we are doing the trip, to see and experience as much as we can.  More often you get your fill of seeing churches & ruins and opt for the quieter, smaller and less expensive  sites.
Travelling with kids
One of the best decisions we've made, to hit the road as a family.  Having this time together is very special,  all too soon they will prefer to be with their friends than us and they growing so darn fast!  Yes there is some extra 'stuff' tto pack, like books, art supplies, stuffies, box of lego, games & toys etc.  You take what you can and you'll find it'll all work out.  We are homeschooling, you can read more about that here.   There are occassional protests, but once out and about they will discover something of interest, guarenteed!
Choosing a Vehicle and is 4×4 necessary?
We researched driving the Pan-Am for years before setting out.  Online there are many websites showcasing every different kind of vehicle you can imagine.  From Tuk-tuks to vans, small cars with roof top tents, trucks with campers on the back, motorbikes, RV's and big rigs like ours.   On the road we've met many other travellers and often the question of 'best vehicle' comes up, only to be concluded that there really isn't any one single vehicle, as we all have different needs, budgets and personal comfort levels.
For sure 4×4 with a bit of higher clearance is an added bonus for being able to access areas off the paved roads.  But is it absolutely necessary? No, Again it depends on your style of travel and where you want to explore.  We love to turn down dusty roads and explore outCan you drive the Pan Am successfully without it?  Yes!
Our Mercedes truck 4×4, complete with everything we need for off grid travel for a family of 4 to be comfortable, safe and secure.  We have the luxury of a toilet which is perfect for young children who end up touching the toilet seat every time, and public toilets are never as clean as you hope for.  We have ample storage for home school materials, clothes and shoes for every season, not to mention all our sports equipment.  So our truck is 'perfect' for us. Even without air-conditioning.  The down side is that we have to keep an eye out for low slung wires, so far we've only snagged one! Every vehicle will have it's pro's & con's.
Having some mechanical knowledge will be a big help, being able to do basic maintenance will keep your costs down.  Before leaving have a good mechanic go over everything and make sure it's all in tip-top shape, carry plenty of tools and spare parts just incase.    You can read more about Bruce and the truck conversions here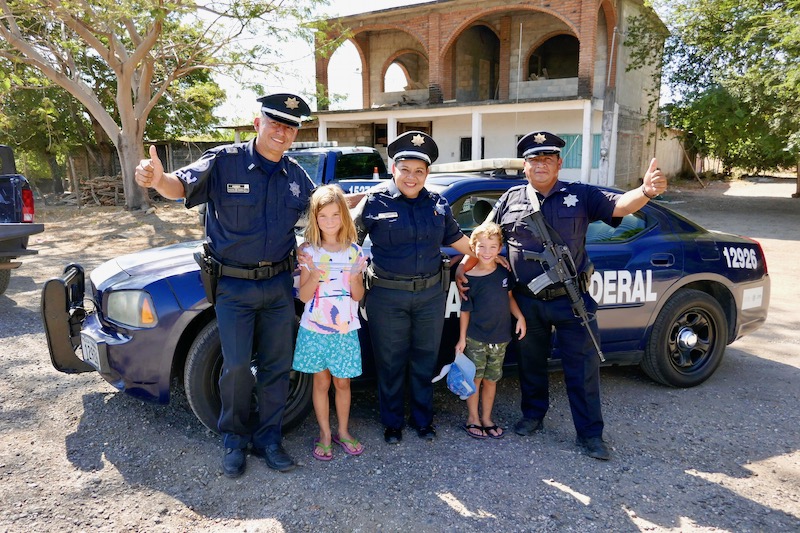 Safety & Security
This is, hands down, the biggest question on peoples mind when seriously contemplating a trip like this, though it's usually a question coming from family and friends.    
Sadly the stigma of life changes as soon as you cross the border into Mexico.  Netflix and the news media don't help by highlighting Mexico's waring cartels, drug lords and corrupt cops who love to extort money from unsuspecting travellers. 
I can't tell you enough how it's the opposite.  Yes you have to use common sense, be careful where you park your vehicle, leave nothing valuable in sight.  Don't walk the streets after dark.  Don't wear flashy jewelry.  Don't carry large amounts of cash on you.  The same common sense precautions you would use back home. 
We are always careful, but never paranoid of where we camp and park.  If we're in a town/city, we'll pay for secure parking.  If we free camp, we'll often ask the locals if it's ok to park for the night.  We've never been refused.  We've been pulled over many times by random police and military checkpoints, not once have we experienced anything other than professional and friendly uniformed personnel.  We've never been disturbed at night by anyone, the truck has never been tampered with or broken into, the same 3 mountains bikes are still on the back. 
 Leave early and arrived early, give yourself 2 hrs of daylight to scope out your area, listen to your gut feeling and either crack a cold beer and watch the sun go down, or move on and find a more suitable place before dark.    In the 9 months we've been on the road, we haven't had one moment of trouble.