The further South we go the hotter and more humid it's getting. Strategy is now to be turning wheels as early as possible. Winter time, so it's dark till 7:30am, which does feel kinda odd in this heat, we are managing an 8:30am start. The cool morning air is more comfortable as the promise of heat comes with each passing hour. The only down side is that the sun is still low in the sky and often right in our eyes.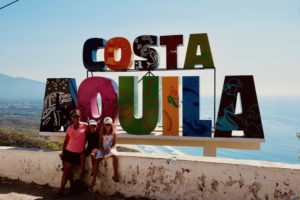 Costa Aquila, is a 200km stretch of tight twisting road, boasting to be not only the most beautiful costal drive in the country, but is also said to be the safest section of road in all of Mexico. Having had enough of cartel fighting, the people came together to form their own militia, and have managed to successfully keep all unwanted people and activities from their part of the country. Heavily guarded and armed to the hilt, at strategic points along the road we frequently see men fully armed with automatic weapons. No one has stopped us, we are always waved on with a smile.
The coast is a mix of steep rock and white sandy beaches. Undeveloped & natural, no resorts, no tourists. Rancho Burganvilias, is a tidy RV campsite run by Sandy (USA) & Ali (Mexico), we settle in and get comfortable for 2 nights. Sandy & Ali have created a chill vibe here, trees are laden with brightly coloured flowers, toilets & showers spotlessly clean. The common area has surfboards hanging from the ceiling, sheep roaming around and not a rooster to be heard of or seen. Large Neem trees offer shade and a place to swing your hammock.
Ali's daughter Kate is the same age as Charley, the kids quickly became friends. Kate understands a little English & speaks slow enough for Charley & Jaxon to understand Spanish. While Kate is at school, the kids get their school work done, today their classroom is beneath a giant Neem tree, their view is over looking a grove of coconut palms, the path through them to the beach is an easy distraction, as soon as Kate returns from school they are running to the beach with boogie boards till near dark.
Dad & Tim have taken apart the Land Rover's fridge, it's not working, so they are investigating, they can't get it to work and suspect the compressor is the problem. I am able to get a couple loads of laundry machine washed & line dried in an hour as it's so hot.
Brian, another winter escapee from Vancouver, here for 6 months surfing has offered to take us into town tonight to his favourite roadside restaurant.   We all pile into his truck for the 5 minute ride into town and order the 'Adobada Gringa' he's been talking about.  A mouth watering, corn tortilla loaded with pork, cheese, salad & any of the flaming hot sauces of choice, or not.  Washed down with a large cup of ice cold 'Jamica'.  Kinda like ice tea, made from red leaves picked and dried in the sun before steeped in boiling water with a little sugar added.  Dinner for eight of us cost $30 CDN and no upset tummies.
Nexpa is our next stop, it's where a river meets the sea. Set just off the beach and beneath palm trees.  We park on a grassy area, a safe distance from falling coconuts, if one hits, it'll knock you silly or damage the truck, we tell the kids to be wary of their walking path.  Chi Cho's camp ground, a popular surf spot with many young French surfers here to ride the waves, practice yoga and chill out between sessions, it's an easy going atmosphere.  There are 2 level cabins to rent, cleanish toilets, showers and an outdoor restaurant that we didn't use.  We pay 140p for the night, a great price.  It's just past noon, we have the full afternoon ahead. A quick set up, grab the surf board and head to the beach.  We're told the waves are small today, there are 6 surfers riding waves that don't look very small to me.  Chi Cho sends us green horns further to the left where he says is a good place to learn.  It's baking hot, and more comfortable on the beach rather than humid air at camp.  The surf is inviting and intimidating, we take a turns, the white water takes me hard & fast, not a hope in hell I'm going to try and stand up, so I ride in on the board.  Tim has better timing and is able to catch a wave, stands & wipes out.  Surfing is not easy, my ribs hurt and it's a soft top!  
While Tim and I flounder in the surf, Dad & Jen are cooling off in the river with the kids who are also helping a man who is fishing with a net, Jaxon and Charley help put the fish in the bucket, he seems happy for them to help, I assume he's speaking to them in Spanish.