I would say it's a pretty cool experience to actually be in Mexico. I really like all the bright colours, especially at Christmas time.
It's very peaceful here with beautiful sunsets, sometimes we are up early enough to see the sun rise too, it's usually a lot cooler at that time, and the birds are singing.
I like the fiesta culture, they really know how to party, but I don't really like their music. It's too loud and annoying with the boom Chicago boom at 6 o'clock in the morning.
The food is yummy, my favourite are the shrimp & fish tacos, with fresh avocado they're amazing. The fruit is really good too, we eat mangoes, papaya and pineapple brought at roadside stalls. We have seen the papayas, bananas, avocados, mangoes and oranges, oh and corn, lots and lots of corn growing as we drive.
The bbq chicken is also really good, I could eat that every day, Mum usually buys it from someone cooking it on the side of the road on a barbecue.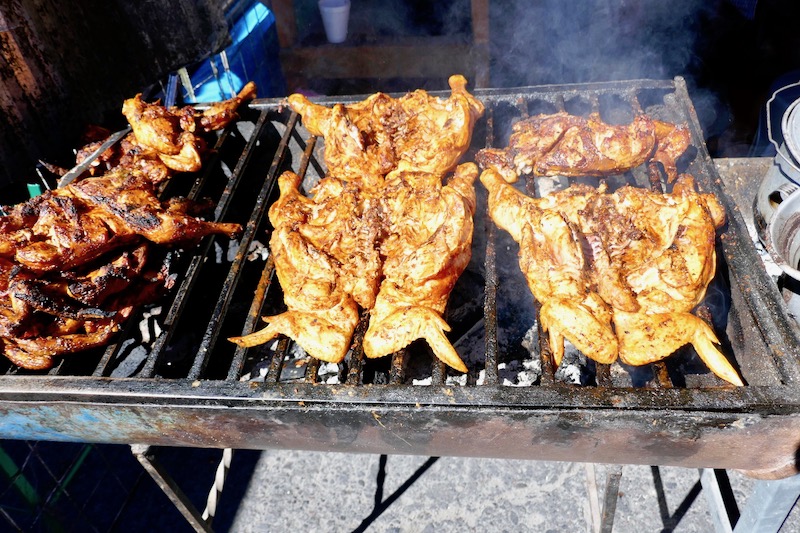 Markets: Walking through those massive markets was kinda crazy fun too. I saw lots of different kinds of beans, grains and different kinds of fruits that I've never seen before. I tried the passion fruit, I liked that. There was a big round green spiky fruit called Jack fruit, I didn't like that either. What I did like was the fresh cut sugarcane.
Sugarcane you don't actually eat, you take a piece in your mouth and suck all the sweet sugar juice out. Then you have to toss it in the rubbish, otherwise it's like chewing on a coconut husk. Speaking of coconuts, I remember my first coconut in the Baja. Dad has also cracked open a few for us. The water inside tasted warm and I didn't really like that part, but I did like eating the white meat inside, that was delicious.
Once we brought a bag of macadamia nuts that we had to crack open with a rock. Jaxon ate all of those. At the markets they even sell live birds! Turkeys, chickens, and rabbits. You can also buy cage birds too as pets. They had budgies, red cardinals some finches and other birds I've never seen. There were lots of baby quails.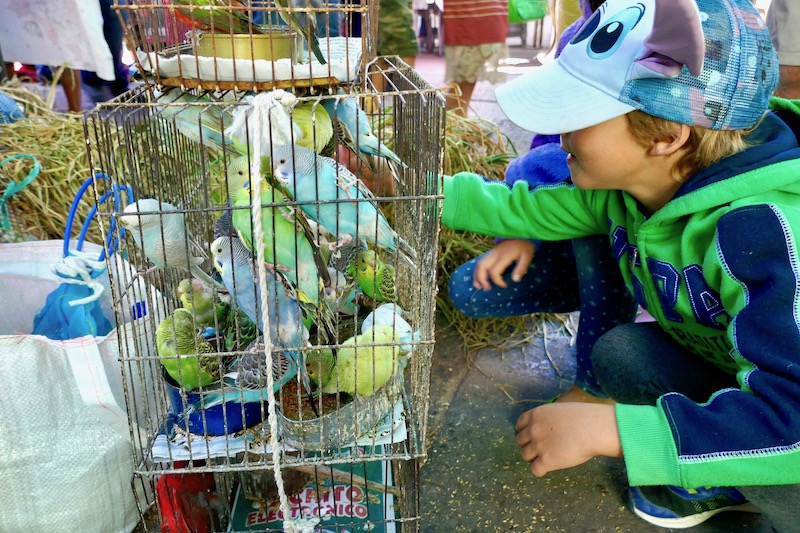 Camping: La Ventana in Baja was my favourite place to camp, because we got to go paddle boarding and swimming in the mornings, there were other kids to play with too. I liked riding my bike around and having New Years party, because we got to dress up, play with Ollie, Jaxon & Ryder. We built a beach campfire, had marshmallow and stay up till midnight. We were running around playing games and I was hiding in the shadows.
Ruins: We've been to see lots of old crumbly ruins, where the ancient people used to live two and a half thousand years ago, that's a very long time. I thought it was interesting, how people carved pictures in the stone by hand. The pyramids are all built from stone by hand and they have steep giant staircases up the front that we climbed up to the top of. Some of them had tunnels and passages we could walk through, the walls were leaning inside, it was dark, but I wasn't scared.
Driving: this is the boring part, all we do is sit in the truck and have nothing to do. If i try to read i get car sick. Mamma reads to us and sometimes we play games. We play i-spy, memory games were we have to remember all the different animals we pretend to pick up. Sometimes I get to ride up front with Mum on her seat, I get to see ahead and snuggle at the same time. I do like the camping part, but i'm usually tired from driving all day and have lots of energy at the same time. Sometimes we camp on the beach, sometimes at a Cenote. Then we get to go play on the beach and swim in the sea or the cenotes. Once when we went walking on a beach we got eaten alive by the mosquitos and my legs were covered in itchy bites. Another time we camped at a waterfall and met another family and I made friends with Emma and i was sad when we parted the next day.
School: Mum is always on us to get our school work and travel journals done, but I never want to do any, it's so boring. With my journal I never know what to say or draw. It's just that I'd rather be doing something else like playing. One day I went to school with Jayla, I got to wear a uniform and had lots of fun. I'm also learning about all kinds of birds and animals, so that can be my school work, I like that kind of school the best.