Valley of the Gods
April 28
From Valley of the Gods we could clearly see Monument Valley.  All part of the same red-sand desert, maybe, as the crow flies, 20km apart.  Just tribal lines dividing them. Those iconic buttes, fins and cliffs have featured in more than 60 Hollywood movies, from Easy Rider to Forest Gump and likely every John Wayne film too. Situated on Navajo lands and currently closed due to Covid, meant we were unable to go and see them up close. On to the next National Park and history lesson.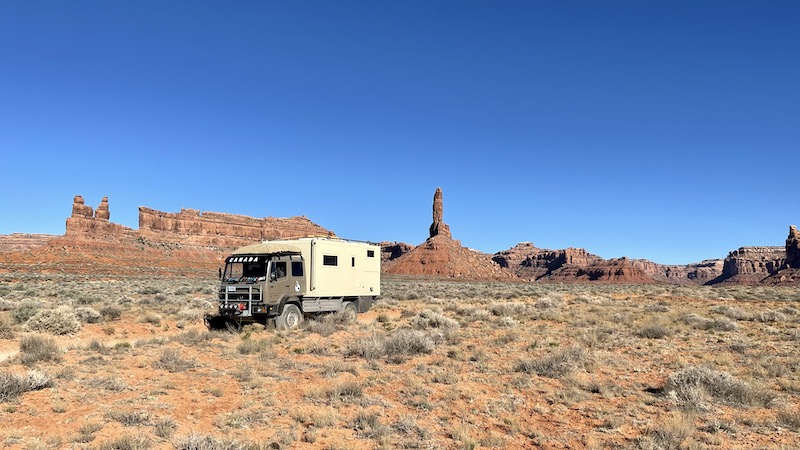 Mesa Verde National Park
April 29
Mesa Verde, translates to Green Table.  And that's exactly what it is.  A large flat topped mountain, located in the very South West corner of Colorado.                      This wild landscape of deep canyons and expansive vistas was home, for more than 700 years to the Ancestral Pueblo people who built thriving communities on the mesas and in the cliffs.  
What a spectacular window into the past! Discovered in 1888 by two cowboys riding across the mesa looking for stray cattle when they came upon the canyon and crumbling remains of Cliff Palace. In 1906 President Roosevelt declared the region a National Park. Three years later saw the start of stabilization and preservation of this culturally rich site. Designated a UNESCO World Heritage Site in 1978.
Archeologists have been able to determine that 26 different tribes have lived here. Dating back to the first inhabitants on the Mesa, the Paleo-Indians in 9600BC to the more sophisticated Cliff Dwellers in 1100's. Mesa Top Loop Road winds past key archaeological sites allowing view points into the ruins. We were there pre-season, which meant that guided tours hadn't yet begun so we were only able to view from afar, still no less fascinating & mind blowing. We were able to view the older 'dug out' houses that have been well preserved and now beneath a roof. Charley and Jaxon enjoyed making out different parts of the house in relation to the information boards. Deciding that they must be very short people back then.
The first pueblo people settled in the region around about AD 550. Over the next one hundred years the region experienced rapid population growth, bringing progressive thinking in terms of construction, weaponry and crop cultivation. Archeologists speculate that climate change was the reason why the people moved from the 'dug out homes' to the cliffs. It was the Pueblo people who constructed these wonderful, multi-storied, multi-room, masonry houses for both living and food storage. These organized communities continued to flourish for hundreds of years before people began to move from the cliffs to lower lands where today their descendants remain.
We loved being here, so happy we came, and will have to return someday to explore more closely. We camped that night half way down the mountain, for $15 we had unlimited hot water showers and took care of laundry (coin operated) and gave Tim & Jaxon much needed haircuts. While sitting by the fire that evening, Mule Deer were grazing all around us. The next day we gave the truck a bit of a clean up before making our way to…..
Newspaper Rock
April 30th
It was Auntie Rita who told us about Newspaper rock. This place is amazing!! Close to Canyonlands National Park and a short detour on the way to Moab, lies this beautiful, 200 sq/ft slab of petroglyphs. More than 650 etchings into the desert rock, possibly depicting daily life over an estimated time span. Drawings of buffalo, deer, antelope and riders on horses. Carved into the natural rock varnish which is a dark manganese-iron deposit that builds up on the rock surface due to rainfall, bacteria and time. When scratched away it reveals the lighter rock underneath, kind of like a positive and negative space. As time passes, the varnish slowly regenerates, this is how scientists and archeologists have been able to estimate their age, approximately 2,000 years old!!
The true meaning of the drawings is unknown. Graffiti or the first emojis? Tribal codes? We could see lots of 6 toed people! The last one I could see was in 1958 when some guy climbed up and added his name and date to history. There are several petroglyph sites in the area, but this is the largest. Perhaps with the river near by, this area was inhabited by farmers, traders, hunters or migrating groups. Taking the time to stop and carve a memory, thought, idea, map or religious symbol. Open to interpretation, the kids could see flying squirrels, a ladder with hands, worms, ravens, bear paws, a wagon wheel, a space ship and an alien with horns. This history lesson was a lot of fun, thanks Auntie Rita, we loved it!!
,