January 12, 2021
I love fishing and I go as much as I can. I would rather go fishing than do boring school work. I like fishing in the mornings and casting from the beach, sometimes I take the paddle board out and try to catch fish, but I haven't caught one yet. Our friend Dean said he'd take me fishing to a place where I would catch lots of fish. He did take me out one other time, but we didn't catch anything, but I still had a great time.
I waited and waited and waited, then one day Dean told my Dad that the fish would be in this special place and that we should go the next morning. I was so excited I could hardly sleep!I woke up early in the morning, super excited to go out on the boat. It was a cold morning and the sun was just raising. I had to wear my big jacket, long pants and NZ toque (hat). Dad and I walked down the beach to the boat launch where we met Mike and Dean at exactly 7:30am.
Dean is my friend, he also likes to go fishing and owns the boat. He has given me a few good lures, and, for Christmas Daddy gave me two brand new lures. He is also a really good kitesurfer and jumps high. Mike is our friend too, he sounds like mum because he is also from New Zealand. He's is camped close to us, past Don and Johann's campers, he's fun to hang out with, sometimes I fish with him early mornings casting from the beach.
The water was pretty flat and there wasn't any wind, but it was still really cold as we motored over to the rocks area where Dean has caught lots of fish. We dropped down 3 lures, from 3 different rods, and trolled slowly around. I jigged my lure to attract the fish, it worked, because after about 10 mins I had my very first bite! Dad held the rod while I reeled it in. I could feel the fish on the hook, it pulled and tried to get away, but I wasn't letting it go. I reeled the line nearly all the way in, Dean pulled the fish into the boat, it flapped on the bottom of the boat with the hook in his mouth. Dean quickly hit it on the head with a big club, I knew it died straight away, because there was blood everywhere and it stopped moving.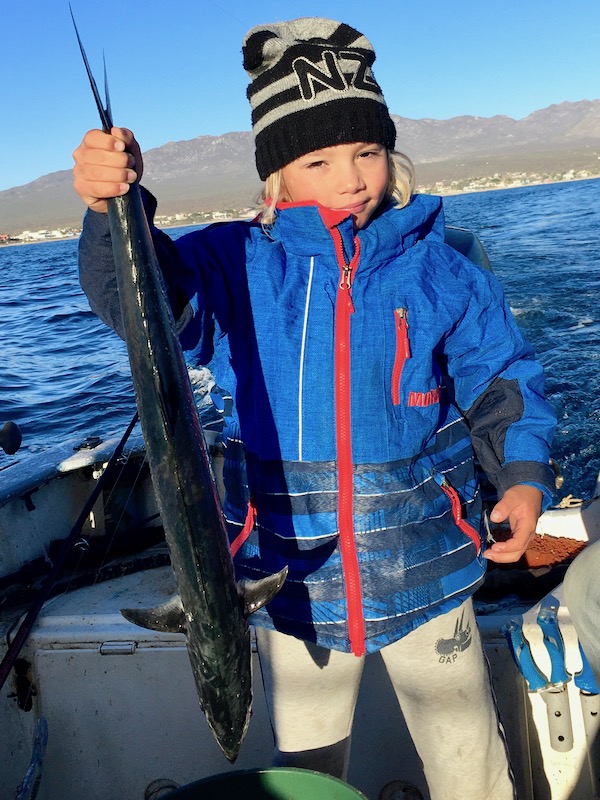 It was a good sized Sierra. It was long, mostly silver and grey colour with yellow spots on its side with green and blue colours in the sun and had two wing like fins on the side and a pointy head and pointy two point tail. I looked in its mouth, he had really sharp teeth and a grey tongue. Dean said they are really good for eating, I knew we were going to be having this one for dinner. Sierra are long and strong and a really fast swimmers. I couldn't believe it, I finally caught my first fish, I was so happy and excited. It felt like I was a real fisherman.
The second fish jumped onto the hook about 15mins later, it was another Sierra but a bit smaller, he fought pretty hard, he really didn't want to get eaten for dinner either. The next bite was a really really big fish, he wasn't on the line for very long, he must have shaken his head and the hook fell out, but he was really really big and didn't want to end up in mum's frypan!
That day I caught 6 fish in all, 5 Sierra and Dad caught a Tuna! I caught the Tuna, but Dad had to reel it in for me. It was the best day ever. When we got back to shore we drove over to Dean's house where we cleaned and cut up the fish. Dean moved quickly, he used a really sharp knife, when he slit the fish belly open I could see the bones and it's eggs, it was a female, the eggs were orange and I could see all the guts. Then pulled out all the guts, took off the head and tail, and cut the meat into long pieces that he put into plastic bags. Leaving the scaly skin behind, you don't eat that part.
The Tuna Dad caught was a nice eating size. He had a bigger head, thicker body and bigger head. He had stripes instead of spots on his back and he also had a short fin that ran all the way from his head to his tail. When Dad cut him open, his meat was light and dark pink on the underbelly side. Mum and Dad ate it RAW after dipping it into soy sauce, I tried some, but i didn't really like it, . We froze lots of the fish to have for dinner next week.
Now that I have caught my first fish, I want to go fishing every day, Dean said he would take us out to the island one day on his boat. That's where the really big fish are and I am going to catch one!