November
While the global pandemic rages on we sit in our beautiful beach bubble feeling only slightly affected by it all. While USA is spinning compass, our biggest decision of the day is which size kite to pump. While Canada's Covid curve is flattened vertically, we sit waiting for the wind to blow. Our bubble is full of sand, surf, sun and fun. It's full of good people with good kids. Our bubble is bigger than most bubbles, because it's an active outdoor bubble. There is probably more than one bubble on this beach, but each bubble is pretty squeaky clean which isn't too difficult as there aren't any cases of Covid-19 in La Ventana. We're lucky to have so many days of full sun & strong smooth wind, life is pretty stress free. We are aware of the restrictions back home and how difficult these winter months are, we're happy & grateful to be here.
A typical day at the beach has the sun peeking over the horizon just after 6am, the air is warm and the sea is like glass. We sit and have our morning cuppa and watch the fishing boats set out into the glowing sunrise. Pelicans fly by in formation just an inch above the water, Charley calls it Flight School.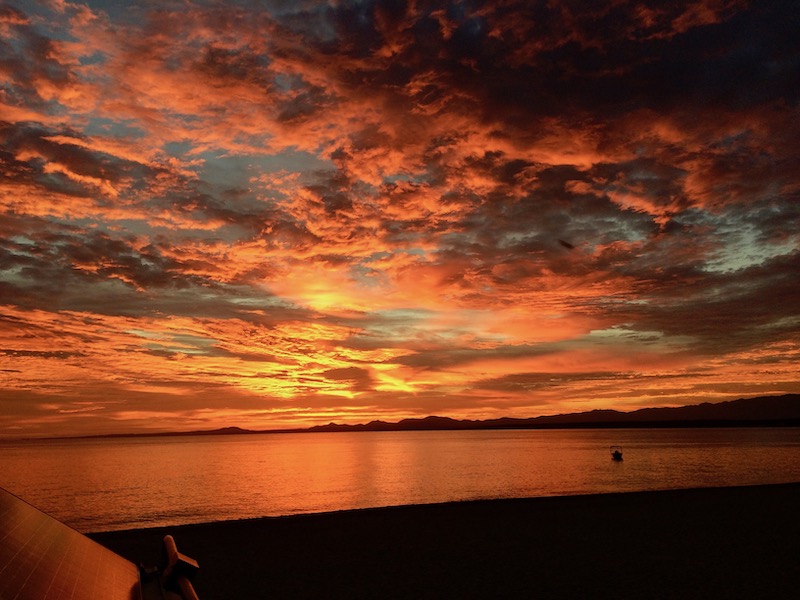 The kids are off down the beach to play with their friends who are up at the same silly hour. Thankfully there are other families here with same age kids. They're together all day, every day, occasionally coming home to eat. School work is less painful, other kids are studying at the same time, so they focus and get their work done as soon as possible.
Conditions have been perfect for a SUP (stand up paddle). Sometimes the kids come with me, but usually prefer to stay and play with their friends. I'll paddle on for an hour or so, cooling off in the water along the way. The sea is beautifully warm but there are tiny jellyfish that occasionally sting a little. The water is full of life, swarms of fish, eels, rays, stars & foot puncturing urchins thrive on the reef. The wind usually picks up around noon so it's back out on the water for the afternoon of kite surfing. Even though the kids are off doing their own thing, we still take turns being out on the water.
Our pop-up community is full of good people. We all have beach front camping, all set up to stay a while. Let me introduce you to them, as they are likely to be in future posts.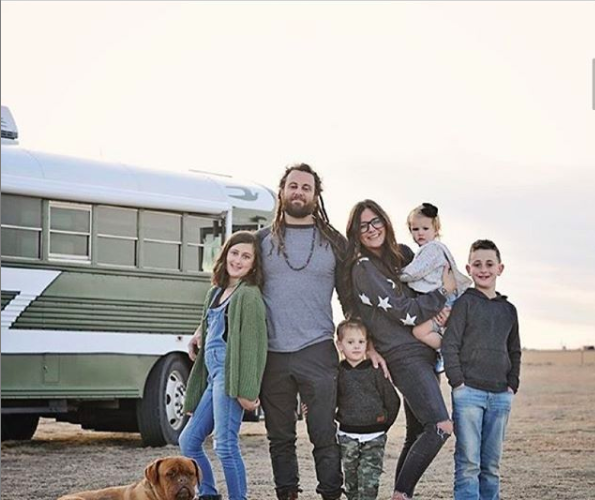 The Ollinger family. Chad and Hayley with their 4 children Lilly 11, Hutch 9, Finn 4 & Hazel 2. Travelling in their converted school bus, they set out to explore the Baja for a couple of months. We met them in La Paz and suggested they come visit if passing through. That was a month ago and they are still here. The kids have all become great friends and Chad has taken up kiting. A newbie, with only 3 lessons he was able to sail up wind and back to the beach. A fast learner and now devout kiter. Their plans changed, they have parked their bus and flown home for a month over Christmas, and will be returning to play some more!
Frederick, Claudia & Benjiman are traveling full time in their RV, following the sun, wind and waves. Fred is originally from Denmark, Claudia from Columbia & Benji their 9yr old son is a beautiful mix of them both. Benji is home schooled & a rips out on the water. He's riding the twin tip, surf board and now a foil board too! Seriously talented, fun & friendly kid who gets on well with everyone. Their plans were also to be traveling South, but with Covid grinding them to a halt, they've been here on the Baja for the past 12 months.
Clark & Gail, our generous neighbours, have made us feel very welcome and given us use of their extra sail shed, tarps & hot water heater! They are from The Bay area in San Francisco. Avid kiters, they have been coming here for years and are out on the water in all conditions, listening to their favourite tunes. I don't know too many Grandma's in their 70's who are out riding a strapless surfboard with a 7 meter kite, but Gail sure makes it look easy. What an inspiration these two are. Clarke is now spending all his spare time on the water foiling with either a kite or wing!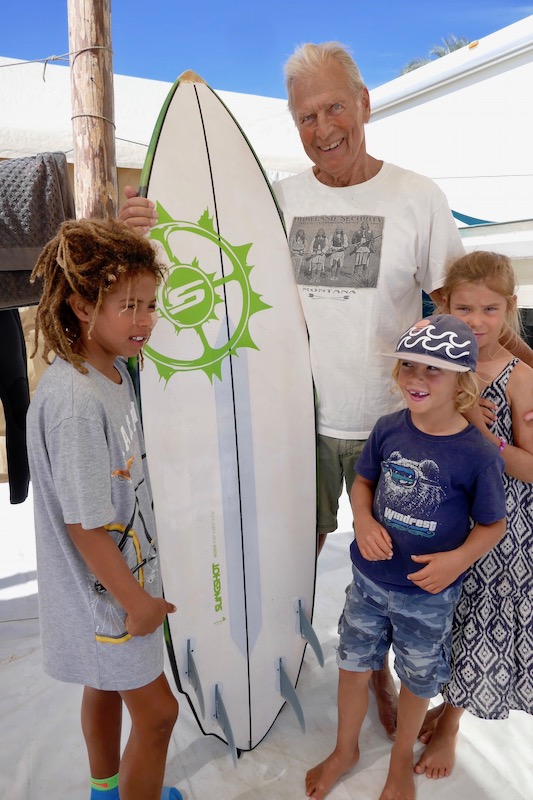 Johan VanVeelen, is also from California and has been coming down here for the past umpteen years. He's wonderful with all the kids and they love him just the same. At 78yrs he's here living the good life, swimming & kiting every day. He calls it as he see's it, just don't get him started on American politics!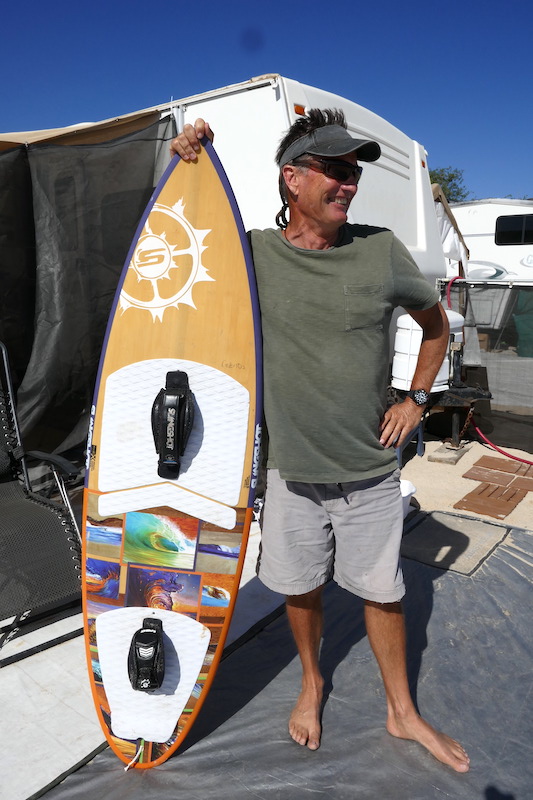 Mike is originally from New Zealand! now making my kiwi's met on the road number 3! Now living in Colorado working in the ski industry for the past 20+ yrs, he's happy to be here chillin on the water than freezing in the snow.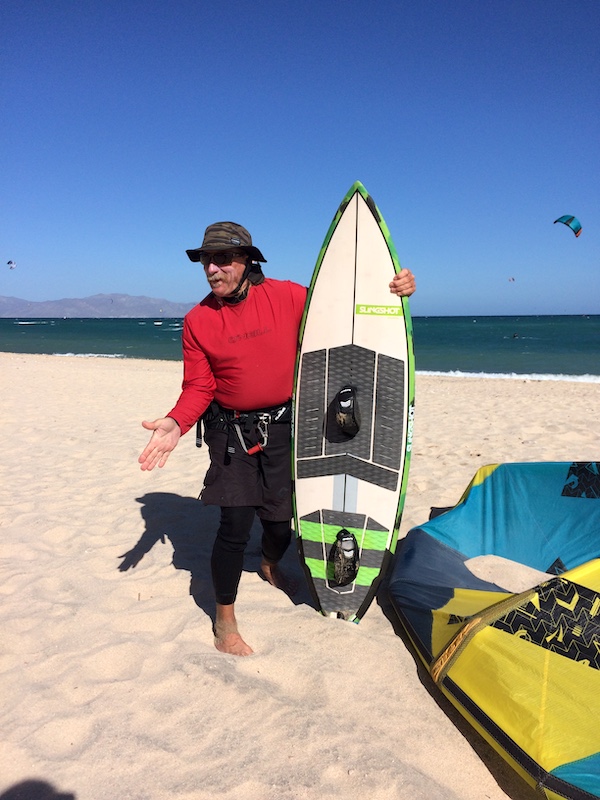 Captain Dean, skipper of the boat that bravely took all the kids out fishing one day. Super nice guy, always a good laugh & fun to be out on the water with.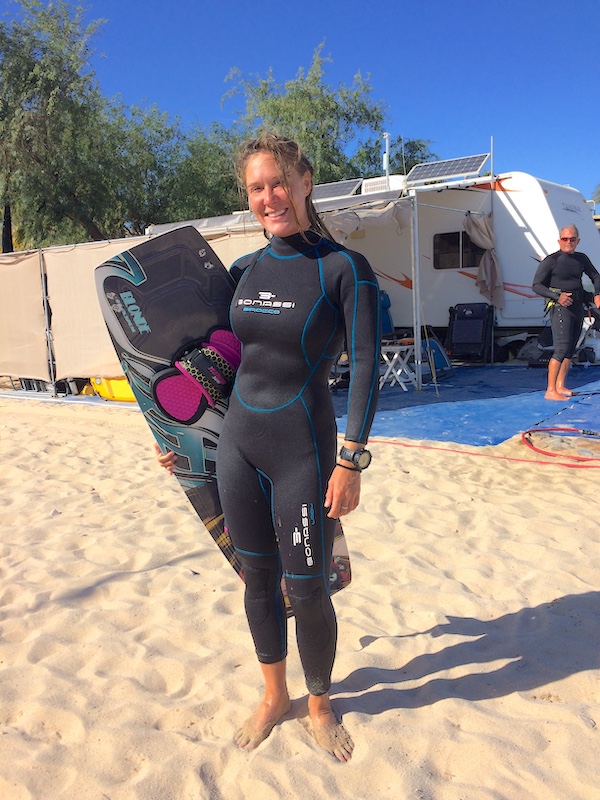 Neighbour to our right and new to the #vanlife world, Whitney is from Texas and has a love for the ocean and kiting. A talented spear fisher, acrobat, kiter and life go getter! Excited about life she lives every day to the fullest. She's great with the kids and happily engages them, giving of her time to answer their never ending questions.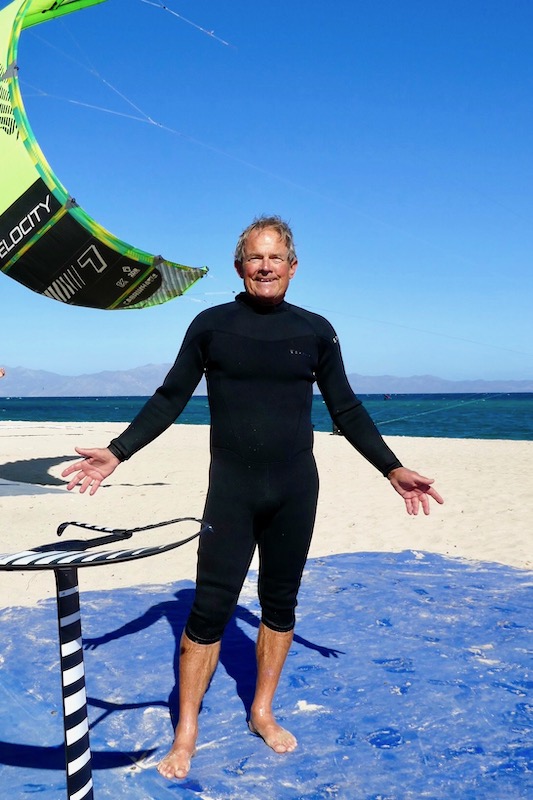 Don Corn is from Lake Isabella in California. A former Lieutenant Colonel in the Marines he's now retired and living his dream life of kitesurfing, foiling and wing foiling. Also a regular seasoner here, Don first came to La Ventana 20 yrs ago, before the road was paved and nothing much else was here.
Team Whistler! Bianca & Bart, Luismi & Kaiya are also from Whistler. Here for the month, we had lots of fun hanging out and kiting down winders with these guys. This photo was taken just moments before launching on a fun 8km downwind ride from the hot springs back to the campground through some really fun waves.
So there you have it, our bubble, there are more great people on the front row, I will introduce them next time. These are our people and we like them. All blown together for the common kiting good.