Sept 13 – 17
Back on September 16th, 1810, México gained their independence from 300 yrs of Spanish rule. On the eve of every anniversary, México is alight with fireworks. We decided to return to San Miguel de Allende to join our friends Mark & Todd in the celebrations. SMA is also known as the 'City of Independence', as it was here that Miguel Hidalgo and Vicente Guerrero strategized and planned many of the battles that lead the country to victory.
Centro was decorated in green, white & red. Flags flying and the streets were even busier than before. People were flocking to watch the fireworks display that started after the 'Cry'. When, Roman Catholic priest Miguel Hidalgo rang his church bell and gave the call to arms that triggered the War of Independence. At 10pm the sky over the Cathedral was alight for a solid 20 mins. From our rooftop view we saw it all and could hear people celebrating across the city. We had a great few days together and hope they will come visit us in Baja! (not my photos)
September 17 – 21 Guanajuato City was just a 2hr drive from SMA.  Everything we'd read online was that the city streets were very steep, twisty and narrow, more so than normal.  Fortunately a previous traveller had made an entry on IOverlander, recommending the best way to enter the only campground is to drive the wrong way down a one way road.   Heeding the warning, we blocked traffic and did exactly that, funnily enough, the locals didn't seem to mind too much. The 'campground' was just a parking lot on a lady's property, fenced, safe and within a 15 min walk to Centro.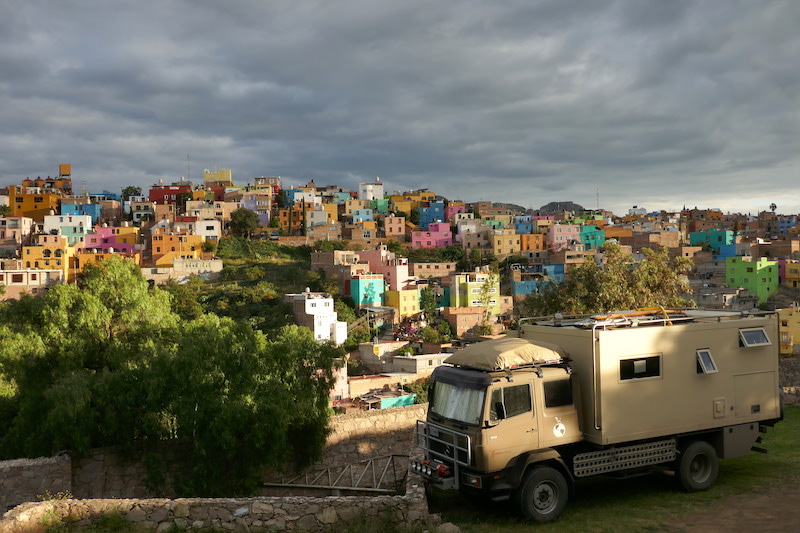 Situated in a narrow valley surrounded by steep hills the tightly packed, brightly painted houses, with many streets too narrow for cars is home to Guanajuato's 200,000 people. A UNESCO world heritage city, the historical centre is built above an intertwining network of tunnels dug by miners hundreds of years ago to control storm water. Today it's a main thoroughfare for traffic.
The city centre has a life of its own. The main plaza, Jardin de la Union, comes alive in the evenings with outdoor restaurants being entertained by mariachi bands, serenading musicians, street performers and wandering vendors. The Baroque and Neoclassical architecture reflect the prosperity of the silver mining era. There are many churches & temples with their own shady plazas shielded from the sun beneath thick canopies of manicured trees. We loved to wander & explore the tiny streets with small cafe's, galleries, museums, artisan stores and admire the many decorated windows.
Centro is compact enough to walk everywhere, but we did take the Funicular (cablecar) up to the Mirador (lookout), for the view over the city. The near vertical tram has two cars connected by a cable on a railway, so that while one car goes up, the other goes down, using the natural forces. For 3 blissful minutes there wasn't any complaining from the kids. We didn't stay for sunset, but spent an hour up there admiring the city. Putting it all together in perspective of where we walked, the University, Basilica, main plaza and where we'd left the truck. The late afternoon light bathed the city in golden light, adding to the magic.
Visiting the Mummy Museum was an experience of its own.  This accidental museum came about when the city imposed a 'tax' upon families to ensure their loved one remained perpetually buried. If the tax was not paid, the body was removed, and many were. Word spread that the bodies were almost perfectly preserved, curiosity grew & cemetery workers started to charge for viewing. Many had died from Cholera 1829-51, some passed as late as 1958, one lady was accidentally buried alive! These were young mummies compared to those of Egypt!! Now one of the biggest tourist attractions in town, so of course we went. I was concerned Charley would refuse to go in, but it was Jaxon who found it disturbing, Charley was fascinated.
Guanajuato's surrounding hills are rich in silver and minerals. Dug by hand, these mines were one of the most prosperous in the state and the town ofGuanajuato was the most influential during the colonial period. At it's peak, La Valencia mine supplied two-thirds of the world's silver production. We made a brief visit to one mine, gleaning what information we could from our fast talking Spanish speaking guide. We visited just one chamber, roughly 60 meters below the surface, you can see from one photo Charley wasn't impressed about being down there.
Guanajuato is a city where people live, work, study and play, not yet a international tourist destination, which gives an authentic feel. There is plenty to come for and spend a few days walking and exploring. It's only a matter of time before the secret is out on this culturally rich, colonial city. I can see why it's hailed as 'Mexico's most beautiful city'. Our planned one day visit turned into four and we feel like we'd just scratched the surface.