Mission Surf is a not-for-profit home for children that has opened it's gates to the Overlanding community of travellers in an effort to assist in funding this incredible organization. Founded by a lovely Australian couple who moved her 20 years ago. Since 2001 it has been home to over 250 abused, abandoned and orphaned children. These beautiful souls are cared for in a family like home environment rather than an institution. Here the children feel secure, loved & cared for by a team of dedicated people with big hearts and endless patience and are mostly volunteers. The goal is to provide a chance of a brighter future of opportunities through Education, Employment and Empowerment.
Among the enormous daily challenges, knowing that the children, who have suffered terribly, need different outlets to help rebuild their confidence and general trust in the world, Mission Surf took to the seas to teach the children water safety, swimming, and of course – surfing! Last year, a couple of the older boys have pulled more than 4 drowning people from the unpredictable ocean currents, literally saving their lives.
Here the children attend school, something most of them had not experienced before, many of them also speak, read and write English very well. They have access to tutors who help with their studies as many of the children find it hard to learn due to their history of unspeakable abuse and trauma. Mission Surf relies on donations, 100% of every donated dollar goes directly to keeping the home afloat operationally, with food and medicine, lessons in dance, cooking, arts, woodworking and trade skills. In the coming future Mission Surf hopes to be able to raise enough money to provide much needed counselling services for these kids who deserve a chance to regain a sense of confidence and self respect.
Our short week stay was an experience I will never forget. The kids were welcoming, friendly, interactive and loved playing games. Skilled and strategic chess players, pool sharks, big wave surfers, readers and storytellers. Spending all day with them we learned of their goals to be a nurse, a teacher and a writer. They have a strong sense of family, many of the children have grown up together and regard each other as brothers and sisters, they even call Pam & Allen, Mum & Dad. It was a privilege to spend time at Mission Surf where they opened their doors and hearts to us. We connected with a few of them and when it was time to leave my heart strings were pulled. We will continue to donate to this essential organization for many years to come, because we see the honesty and sincerity of all the good being done.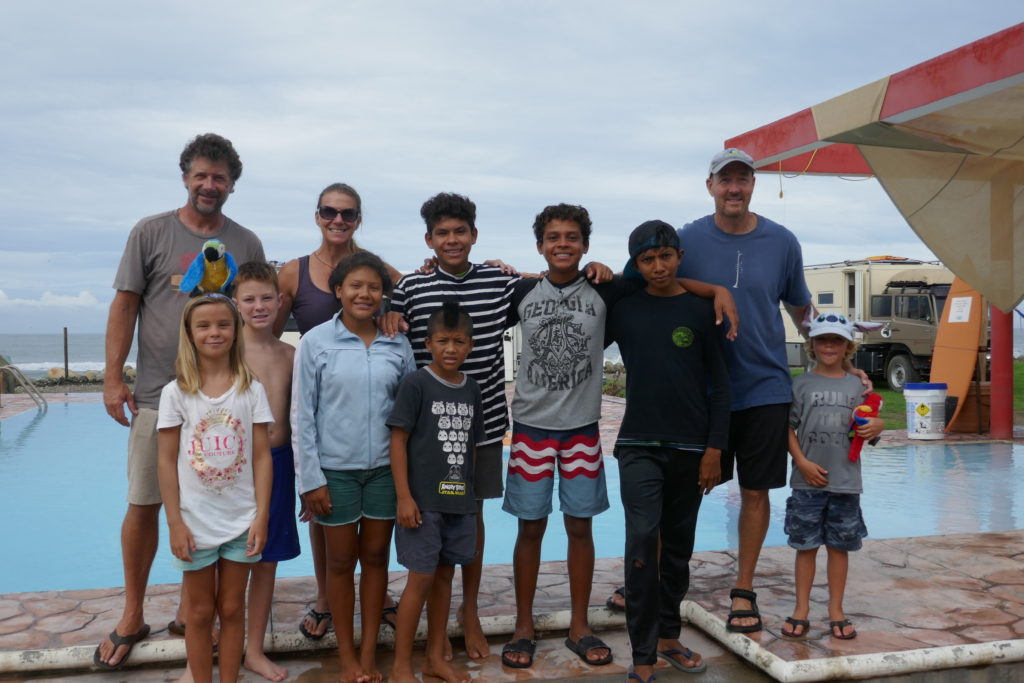 We did go for a wee explore around the town, Villa del Sol is located on the Pacific side of Chiapas state, very close to the Guatemalan border. The days were very hot and humid, camped on the sandy grass meant we were constantly batting away mosquitoes and sandflies. The tropical storm forecast stretched from El Salvador to Mexico, the skies were dark and threatening and the ocean reflected that same mood. The beaches are fine, deep black sand which weren't exactly welcoming, the surf was big with clashing waves showing rip currents, but no warning signs for swimmers. This is one of the poorest parts of Mexico, just life in general here is risky.
We met an Australian guy, Quinten, a surfer from Queensland who was on his way South on foot, when the virus closed the borders leaving him kinda stuck. He's been living in a hammock under somebody's beach shack for the past 3 months!! I can't imagine, no walls, no electricity and more mozzies than you can count! He helped the owner build a bathroom and wash sink and is paying a small rent, he's learning Spanish and surfing. Quinten had repaired a broken surfboard and was also teaching the village kids how to surf. He happily offered to take Charley & Jaxon out for a lesson. We weren't exactly prepared, we were just out for a beach walk. But the kids were keen and within minutes Charley had stripped down to her birthday suit and was in the surprisingly warm water. Her first wave she was up riding and totally hooked! Jaxon also picked it up easily and had a fun session surfing the white water.
On the morning of the 2nd we left for Oaxaca with Shannon and Greg.