From one extreme to another, as steep and windy as the Chiapas roads are, the Yucatan's are long straight.  It's a relief for driving and we can often go 20km without crossing a tope!   The Yucatan is well known for ancient ruins, stunning cenotes and white sandy beaches.  It's all of that and more with waterfalls, jungles and birds too.  
The impressive Tonina Ruins, lost city of Palenque and Uxmal archeologic sites left us both in awe and a touch of disappointment.  Built before the invention of the wheel, a staggering 2,500 years ago, the mind boggles at how it was done.  The amount of manpower and engineering & organization required by these people is evidence of their level of might, sophistication and belief systems.  Impossibly steep pyramids, interconnecting tunnels and chambers are similar to the Great Pyramids of Egypt, symbols of the stars, the gods and rituals in the quest for the great afterlife.   
Over time, weather and jungle growth they gradually caved in or toppled over. Restoration over the past 100 yrs has been extensive, though sadly not nearly to the degree of care or precision of the original masons and engineers.
Tonina Ruins were our most favourite, a smaller site of the Sun & Moon pyramids and accompanying buildings have been well restored. Perched on high ground overlooking the lush Oaxaca countryside, there were just a handful of other people there. Entry was 60 pesos each and no one there to sell us any trinkets. Perhaps because the history of Tonina, translated to 'stone house' was of rather grim, decapitation was the preferred choice of sacrifice or dealings with captives, even stone carvings were headless. Discovered more recently, and off the beaten path its nice and quiet.
The lost city of Palenque is still almost completely consumed by the jungle, today only 2% of the 35 sq km site has been uncovered. Once home to 100,000+ people, this city has several large pyramids and palaces built around a fresh water stream providing the main element for the city to thrive. Home to Mayan child Kings & Queens who reined in turn over a millenia dominating outer lands for their supply of corn, crops and farming. A thriving empire to ultimately fall with the arrival of the Conquistadors.
Sadly here restoration wasn't done so well either, and to see crumbled concrete with rusty rebar sticking out of headstone archways was as disappointing as the amount of people hustling to sell, tourist souvenirs. That said, back in the day, there were most likely people selling carvings and food at the same spots by the ancestors of those selling them today.
Uxmal, our most anticipated but least favourite, starting with the hefty fee of 80 pesos just for parking.  Then a whopping 900 pesos for the four of us to enter we held high hopes for greatness.  Yes the pyramids were impressive, but having visited so many over the past few weeks we weren't blown away.  The architecture is notably different with rounded surfaces of some pyramids.  Iguanas have moved in and multiplied.  The side rooms have an unbearable stench of iguana poo, so we spent the least amount of time here.  We all agree to take a break from ruins for a while, time to visit some waterfalls.   
Agua Azul Cascades and Misol-Ha Falls are both located in the jungle roughly 60km apart. The broad river feeding Agua Azul is also home to the Mayan community who run the commerce side, the ticket booth, parking, restaurants and and souvenir stalls. Fair enough that they charge with so many people coming here daily by the bus load gawking at and photographing their corner of paradise, us included.
We had heard that these falls were worth the visit, and they are.  The touristy side of the river is lined with dozens of stalls selling all the same tourist trinkets we've seen all over the country, so they are easy to pass by.  We did stop for a snack of empanadas at a stall run by a lovely woman with a baby slung on her back.  She is a mother of 5, and a grandmother of 2, having her first baby at 14, today she's only  29!!!  She was as shocked as I was of hearing this as when I told her I had my first baby at 39.   
The falls are very beautiful, flowing steadily over the time worn terraces, into rounded into brilliant blue pools before flowing on. We pass by a bus load of Italian people who do take a dip in the upper part of the river, marked off for swimming, declaring it to be cold and invigorating. We spent a couple of hours wandering around, caught up with Dad & Jenn, it was too big and busy for us to spend the night, so we moved on.
Misol-Ha falls was just an hour or so up the road. Paying to enter, and again to go and see the falls wasn't so bad this time as we were able to camp in the carpark the night. Another travelling family was here when we arrived, Carl, Christine and their daughter Emma, 11, from Latvia, are taking a Gap Year to explore Mexico. They picked up their van in the US and converted it themselves. The kids became fast friends, knowing now that time is always limited when we are lucky enough to meet other kids on the road, no time time to be shy. They all spoke perfect English, so we enjoyed an evening together, listening to the parrots and howler monkeys in the trees c. As the night time came, the humidity turned to dew, everything grew damp then wet, time for bed.
The path to the falls lead us down the jungle path, we could hear the water before seeing the magnificent free fall, another display of natures beauty. Watching that amount of water was mesmerizing. The path forks, one leads behind the falls, a misty, slippery pathway below the overhanging rock, to a concealed cave. With the light of a cell phone we duck in to see, the water was shallow and flowing from an underground spring. Imaginations running wild, if an earthquake struck now, we're done for, back to open air.
The Yucatan is also well known for Cenotes, thousands of them.  The general consensus is that way back when a meteor hit earth, sinkholes formed as the collapse of the limestone bedrock exposing groundwater. Forming caverns, some have partially or fully closed domes, some are completely open air.  Rain water filters through the earth collecting in these turquoise blue, sweet water pools.  Stalactites and stalagmites have grown over time from the floor and roof.  We have visited four of them, our first was called Kankirixche, we spent 2 nights here for 350p.  Not a campground, but the owners allowed us to sleep in the carpark no problem.  Well set up, clean and tidy, we had cool showers, flush toilets (no seats) and were able to do our laundry.  The cenote itself was partially open, stunning and we had the pools all to ourselves.  The sunlight beamed in through the openings from 10-2pm, casting light rays into the 15 meter deep crystal clear blue water.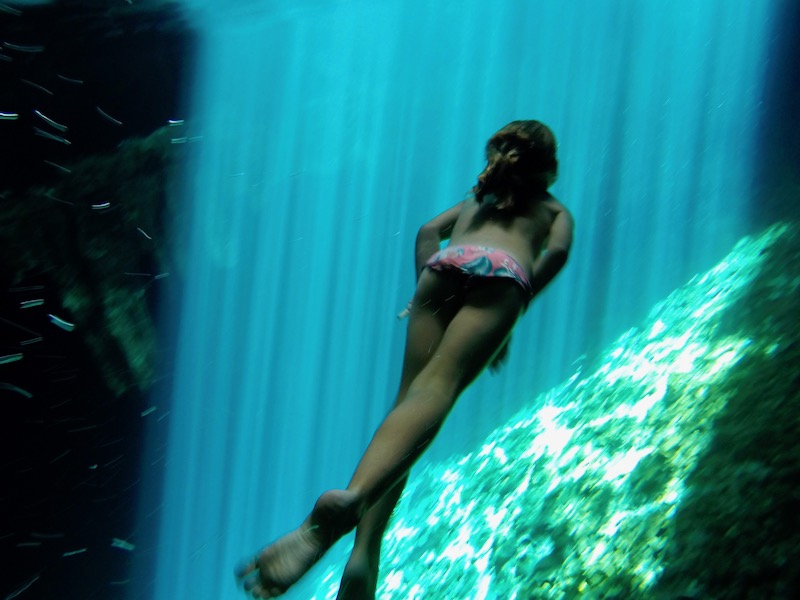 The next stop was called Acancun Cenote, located on someones farm.  They don't let you take a look without paying, it was later in the day so we decided to stay.  This one was bigger than the last,  but wasn't so clean, a mirky film on the surface of the water didn't make it as inviting, but above ground it was stinking hot so in we went, and showered off after.   (This is probably where I picked up my ear infection that turned into strep throat and the flu).  A large cavern with very deep water, the dome cover was complete so it was artificially lit.  The water here was deeper still, and the limestone formations were pretty, but without any natural light and air, it was dank smelling.  There was a very small, chimney size sinkhole with a ladder going down 25 foot, climbing down to the bottom we found a low cave filled with fresh water, thankfully we couldn't venture any further. The kids were fearless and happy to explore. Not our favourite place, we spent just one night here and moved on the next day. 
Xux-Ha Cenote was very pretty, a small rock opening in the ground was the entry point to the stairway down.  This was even bigger than the others, clean clear water, Jaxon didn't hesitate to dive head first off the 5 meter, 15 feet platform!!  My heart stopped seeing him dive off without hesitation.  I heard everyone in the water gasp in surprise at his bravery.  He didn't dive again, which meant he probably spooked himself, but he did jump a few more times.   No camping here so we drove another 25km. 
Chooj-Ha Cenote, we read that this one was another 'must see' and the biggest one yet. Artificially lit as the fully closed dome keeps all light out. The most impressive cenote from a formation perspective. Deep clear water, we enjoyed swimming, no high dive platforms. We were allowed to camp in the carpark for a couple of nights for 200p per.  At night we were the only ones there, no barking dogs, alarm clock roosters or anyone to bother us.   We were able to get more laundry done, kids got caught up on their school work, and I was able to get some writing done.  
Dad and Jen are heading to Miami for a couple of days on the 24th to pick up some parts and supplies. Till then we are gonna head up to Isla Blanca, a sand spit just North of Cancun for a week to hopefully get some good kiteboarding in.